Are you a cannabis connoisseur looking to review some crazy strains out there? Have you heard about the apple fritter strain that has been gaining widespread popularity in recent times? Don't worry if you have not been able to keep up with the latest in the CBD industry? Stay tuned because we have a plan, and strains are currently topping our charts!
Why waste time on bad weed when you have so many strains to choose from? So instead of wasting any more time, let's find out all the necessary details about the apple fritter strain in this article. Then, all you have to do is simply scroll down and find out the information you have been looking for!
Introducing The Apple Fritter Strain: Exploring Deets!
Yes, the apple fritter strain has gained widespread popularity but have you thought about what strain is apple fritter? Not really, right? Let's find out all the exciting deets about this strain! Simply scroll down to find out now.
What Is The Apple Fritter Strain
The Apple Fritter Strain is Indica-dominant, characterized by a sweet flavor and even sweeter aroma. But that's not the real magic of the strain. With a whopping 25% THC, the apple fritter strain boasts a high that you simply can't miss out on, especially if you are a recreational marijuana user.
If you consider yourself a self-respecting marijuana aficionado, there is no reason to miss out on this potent powerhouse. Keep reading to find out the characteristics of the apple fritter weed strain, and don't forget to try the same out when you get the opportunity.
Characteristics Of The Apple Fritter Strain
When two potent American strains are crossed, the apple fritter strain yield is obtained – yes, when you blend the sour apple strain with the animal cookies strain, the results are the apple fritter strain. In fact, many people might make the mistake of calling this the sour apple fritter strain, but you can drop the 'sour' and just enjoy the fine balance in taste.
Check out the table for more details:
| | |
| --- | --- |
| Genetics | Indica-dominant |
| Parents | Animal Cookies X Sour Apple |
| THC | 25% |
| CBD | Low |
| Flavors | Earthy, Sweet, Sour, and Apple-like |
| Effects | Relaxing, Energetic, and Focussed |
Growing Apple Fritter Strain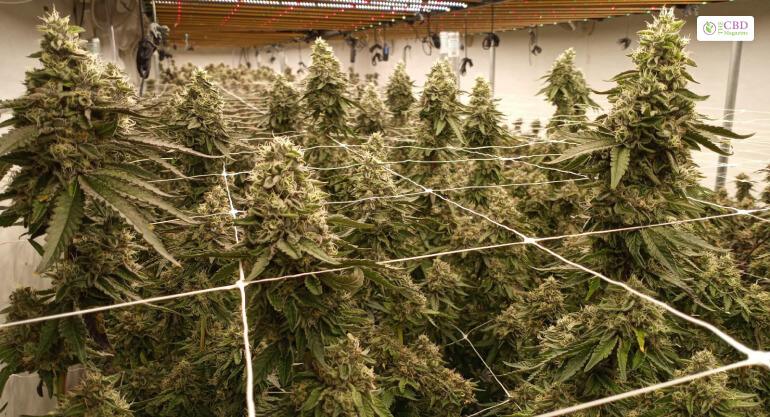 Did you know that the apple fritter strain is pretty easy to grow at home? If you choose to grow this strain at home, you will find out that it is a pretty rewarding experience owing to the apple fritter strain thc level. In fact, it is a great alternative for anyone without plenty of growing experience.
Check out the table below for some much-needed apple fritter strain grow info!
| | |
| --- | --- |
| Grow Difficulty | Beginner or Intermediate |
| Best Growth Suitability | Both Indoor or Outdoor |
| Climate | Sunny or Warm |
| Variety | Feminized |
| Height (Outdoor) | Medium |
| Height (Indoor) | Medium |
| Flowering Time | 60 to 65 Days |
| Harvest Period (Outdoor) | October |
| Yield (Outdoor) | 450 to 500g/plant |
| Yield (Indoor) | 450g/m² |
The Effects Of The Apple Fritter Strain: Spoilt For Choice
The growing popularity of the apple fritter strain bags has made us wonder about the effects of this potent powerhouse of a strain! So what are the effects of the apple fritter strain? Scroll down to find out now!
1. Anxiety
Online sites like Leafy conducted surveys in which 21% of the voters mentioned how the apple fritter strain could help with treating your anxiety, especially if sweaty palms and the like characterize your anxiety.
2. Depression
The same survey also found out that around 12% of people have confessed that the apple fritter strain actually helps with depression. Although people have said so, it is always better to consult with medical experts before opting for any dosage of the same for treating such conditions.
3. Stress
Similarly, the same survey also found that a solid 18% of people voted that the apple fritter strain helps with stress! If you are stressed, why don't you consider trying this strain out, especially since it's so easy to grow? The short apple fritter strain flowering time only contributes to its lasting popularity.
Frequently Asked Questions
1. What Is The Strain Apple Fritter Good For?
The apple fritter strain is used for recreational purposes by several connoisseurs of marijuana, but that's not the only use of this strain. The apple fritter strain also has a medical purpose, and patients often use the same for treating mental health conditions such as depression, stress, and even chronic pain. 
2. Are Apple Fritter Strains Easy To Grow?
The apple fritter strain is easy to grow, considering these are medium-sized plants that turn out to be dense, bushy, and are often accompanied by several colas. The strain was found to respond much better to topping, trimming, and low-stress training. The flowering period for the strain lasts for about nine to ten weeks, and growers can always depend upon techniques such as the Screen of Green method. 
3. What Strains Are Similar To Apple Fritter?
Strains that are considered to be similar to the apple fritter are as follows,

• Gucci OG,
• Kali Mist,
• Candyland,
• Lemon Pie,
• Jack Herer, and
• Casey Jones.
4. Who Made Apple Fritter Strain?
Created in the famous wine regions of the United States, located in Northern California, the Apple Fritter strain was first bred by Lumpy's Flowers. In fact, Lumpy's Flowers brought strains of Apple Cookies and Sour Apple together for creating the apple fritter strain, which happens to be very potent and primarily made from Indica. 
And It's A Spiritual Wrap!
Now that you have a fair idea about the potency and other characteristics of the apple fritter strain allbud, what are you even waiting for? If you are a recreational user of marijuana, then you must try this strain out, especially for its potency and other characteristics.
On the other hand, if you are a medicinal user of cannabis, it is better to consult your doctor before using this strain or any strain for that matter! Don't forget to let us know your thoughts and experiences of the same in the comment sections below!
Additional Reading:
Barsha Bhattacharya
Barsha Bhattacharya is a senior content writing executive. As a marketing enthusiast and professional for the past 4 years, writing is new to Barsha. And she is loving every bit of it. Her niches are marketing, lifestyle, wellness, travel and entertainment. Apart from writing, Barsha loves to travel, binge-watch, research conspiracy theories, Instagram and overthink.