The smoking community is evolving, so to speak. Most of the young people you would meet on the streets would tell you how they stay far away from traditional cigarettes. Then, what are the young people smoking all the time?
The answer to that question is Elf Bar. Elf Bar is a company that makes some of the most varied vaping products. from 'Miami Mint' to 0% nicotine, they got it all. According to the internet, Elf Bar flavors ranked as some of the best in the vaping community. This shows why the brand earned such a cult following amongst the vaping community.
So, if you want to know more about Elf Bar and the best Elf Bar flavors to look out for, then you are at the right spot.
What Is An Elf Bar?
We believe that we need to start slow. Hence it will be appropriate to know about Elf Bars before we start discussing all the flavors and other jargon. In simpler terminology, Elf Bars are e-cigarettes or vapes. These vapes are usually single-use and therefore are pre-filled with a specific liquid and cannot be changed. However, do not worry. Keeping the customer's needs in mind, Elf Bar has brought options that provide more flexibility to the customers.
Aimed at providing a whole range of options to its community, Elf Bar has provided a range of 30 different flavors. These flavors range from fruity to candy and everything in between. Not only that, the company has also provided a range of different devices to choose from. The company also made sure to bring products that have zero nicotine in them, keeping in mind how the vaping clientele is shifting from regular nicotine. Therefore, apparently, not only the Elf Bar flavors are varied, but the company has also claimed that they have something for everyone.
Most of these vaping devices come in single-use formats. A user can have up to 600 puffs in a single use. However, the company also provides rechargeable devices like the Elf Bar BC5000. The devices usually cost around $5 to $6, while the bigger and rechargeable Elf Bar BC5000 is priced around $18 in the US. With a low price and a great assortment of flavors across different devices, Elf Bar has become an iconic name in the vaping community.
Guide To A Flavorful Vaping Journey:
All Elf Bar flavors are created by the company with the intent to appeal to a certain niche of vapers. This is why the company has gone all crazy with the overall assortment. With 30 plus flavors provided across a range of 20 plus devices, one of the most versatile in the industry. However, you do need to know about the options before you can go ahead with your choice. Here is a list of some of the 'elf bar best flavors' that you have been looking up on the internet. Most of the flavors on this list are also elf bar bc5000 flavors that you can try.
Watermelon:
Anybody who is into fruits like us would definitely have a great time with this flavor. The vape delivers a burst of fresh flavor of watermelon. The company has made sure to bring the true flavor of the watermelon. According to a reviewer, the vape tastes 'very fresh, ripe and succulent'. Words that are usually not associated with something that can be smoked. The flavor is one of the more popular Elf Bar flavors on this list. Also, the subtlety of the flavor is well-suited for beginners.
Strawberry Ice Cream:
The flavor is best suited if you have a sweet tooth and crave something sweet from time to time. With a 'very creamy, milky Strawberry beverage' taste, this feels like an oddball and can come as an acquired taste among the community. Nonetheless, those who have tried it have definitely sung high praise for the flavor.
Blue Razz Lemonade:
This is a flavor that has a certain tanginess and a refreshing aftertaste to it. This is well-suited for anybody who enjoys menthol cigarettes. According to internet reviews, "It's the clever combination of fruit with an icy cool blast that keeps Blue Razz Lemonade firmly planted in the mind."
Sakura Grape:
A weird combination for the most 'hardcore' vapers. However, we hear just the taste of purple grapes and a hint of cherry blossom freshness with it. This is one of the most unique Elf Bar flavors we have tried, and it manages to create a unique blend that brings a burst of flavors to the mix.
Cherry Cola: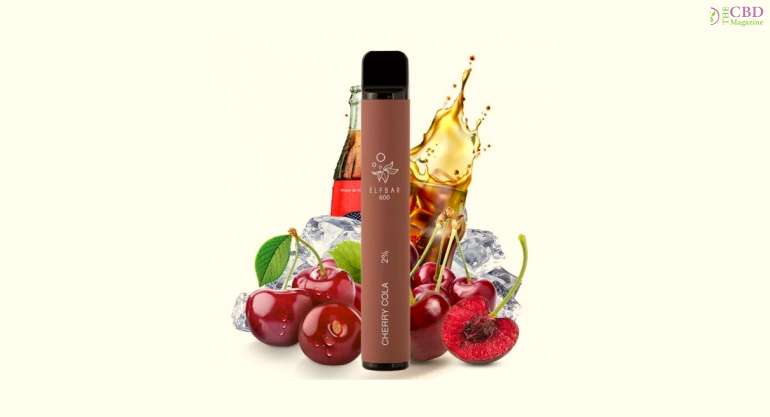 A bold mixture of cola along with candied notes of fresh sweet cherries. Not as smooth as the cola flavor, still it is a personal favorite that packs a great punch. You would feel the flavors hitting you with every drag you take. This one is the more innovative Elf Bar flavors of the whole lot.
These flavors are just personal favorites and are not the 'best' flavors or Elf Bar vapes. The Elf Bar BC5000 flavors list, or the general list of flavors coming out of Elf Bar company, is quite extensive. You don't have to limit yourself to these fives only; you can check out more flavors in order to find out which one suits you the best.
Final Thought:
With a great assortment of flavors from the company, now wonder why Elf Bar is the top dog of the vaping community. Even though there are other cheaper vaping kits out there in the market. Buyers still gravitate towards Elf Bar because of its reliability and unique flavors list.
However, be mindful that smoking is still injurious, even if you are smoking a vape. Therefore, we would suggest you to be informed about the health risks before getting into smoking or want to switch things up.
Additional Reading: