Using marijuana for medical purposes is in vogue right now. With proven studies that show the positive effects marijuana has on an individual's health, people are leaning more and more toward the idea of medical cannabis. Therefore, today we will discuss some of the best strains that work perfectly as medical cannabis and how to determine which one is the perfect one for you. So let's go.
How To Choose Medical Cannabis?
In recent years, it has been inferred by researchers that cannabis has potent medicinal properties. As a result, in many states of the United States of America, cannabis has been legalized or decriminalized.
This subsequently makes it easier for people to find and procure the herb in order to use it for medicinal purposes. In fact, cannabis is becoming so popular as a medicinal plant that it has grown into a billion-dollar industry.
Professional growing houses are cashing in on this popularity of the medical use of cannabis in order to make big bucks. But what do you need to know in order to understand the perfect medical cannabis for you? Do not worry, we are here to help you.
One of the first things that you need to keep in mind is the goal that you want to achieve using medical cannabis strains. Are you looking to increase your appetite? Or the quality of Sleep? Or do you need help with a chronic illness? Whatever may be your reason, the medical cannabis industry has an option that can help you with these goals.
Once your goals are clear to you, the next step is to choose the strain that is the best medical cannabis for you. And procure it. I would suggest that you first get yourself checked by a medical professional and get him or her to prescribe you medical cannabis for your health purposes. This is something that the medical cannabis dispensary will ask you to show.
Also, before you proceed with your prescription, please take a moment and understand how your state defines what is medical marijuana and the general legality behind it. This would help you avoid a row of trouble.
Top Strains For Medical Cannabis
Now that you are clear about the way to choose the right medical cannabis for your ailments. Let us look at some of our top picks for the strongest strains that are perfect for medical usage. However, before we proceed, we need to clarify that all the strains discussed here are some of the best strains that are available for retail. But these strains can come with a hefty price or may be rare. So, instead of demanding a specific strain from your dispensary, please elaborate your health needs to the budtender so that they can help you effectively.
Godfather OG
With a THC level that can easily go up to 30% to 35%, this is one of the strongest strains available. This is primarily an Indica dominant hybrid strain that has a fast-acting agent in its molecule. As a result, you will feel it hitting you like a truck just minutes after consuming it.
The general effect of this strain can be best explained as a body high followed by a potent cerebral high. Therefore, this is a strain that can help you in dealing with chronic pain or mental health issues like anxiety, depression, ADHD, etc.
Gorilla Glue
This is one of the most stable hybrid cannabis that is out there. This 50/50 strain is perfect if you want to experience the best of both worlds. With moderate levels of THC, which is around 26%, this strain is perfect for anybody who wants to give medical cannabis a try for the first time. Since this is a 50/50 hybrid, the range of ailments that it can help you with is also quite versatile. Some of the prominent problems it can solve are anorexia, insomnia, chronic pain, and anxiety.
Chemdawg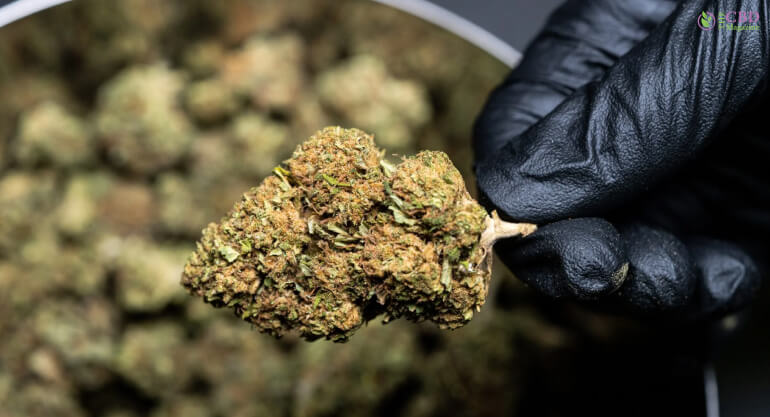 The name probably might throw you off, but Chemdawg or Chem Dog is one heck of a medical cannabis that is known to provide results. The strain is a product of crossbreeding two very prominent strains, namely, OG Kush and Sour Diesel. This hybrid is another indica-dominant strain that produces effects like euphoria, relaxation, potent body high, and sleepiness. Therefore, if you are somebody who goes through strong bouts of panic attacks, then this is a good strain that you can try in order to help calm your nerves.
See Also
Bruce Banner
A name that is reminiscent of the Hulk, it surely packs a punch. This is a 60% sativa strain. This means it will keep you buzzed throughout the day but not too buzzed. In other words, you will remain coherent. Therefore, this is one of the best strains to use in the daytime as well. The mood-altering capabilities are strong with this one. So, if you lead a stressful life, then this strain will definitely help you calm those nerves and make you all more relaxed and centered.
Strawberry Banana
This is a weird name for a strain that strikes a sweet spot between power and smoothness. If you are somebody who enjoys hints of sweetness in their cannabis, then this is the best option for you. In fact, a reddit user claimed that this is a strain that will help you deal with anxiety and other mental ailments in the 'sweetest way possible.'
That is always a plus in my books. With a moderate THC content of just 25%, this is definitely a strain that is more accommodating of new users who feel like they need to start slow. Also, this is one of those strains that have no major side effects that can prove to be a conflict of interest. This is probably one of the best choices for medical cannabis.
The Final Thought.
So, with that, we have reached the end of our list that discusses our top picks of strong marijuana strains that work perfectly as medical cannabis. As I have explained earlier, these strains are quite exclusive. As a result, they can be hard to come by or are quite pricey. So if you do not find these strains in your medical cannabis dispensary, then you can definitely ask the budtender for alternative strains that you can try.
Additional Reading:
samik ghoshal
Samik has been a literature student all along and uses his fluidity to write about multi-niche topics. Aspiring to be a professional writer, he tries to analyze his topic from a critical standpoint but still adds a hint of personal perspective to the end product. Being a person having a general inclination toward global politics and documentary filmmaking, he also wishes to write and document more about numerous conflicts that are brewing in the different corners of the globe.