THC O breaks several conventional CBD rules. Still, it provides a high that can easily compete with some of the strongest hallucinogenic substances on this planet. So, today let us look at different aspects regarding this interesting cannabinoid that comes out of a petri dish and not the farms.
What Is THC-O?
THC-O may be new to many people, but US Military has been conducting research on this substance since the 1940s. THC-O stands for tetrahydrocannabinol acetate. This is a synthetic cannabinoid that significantly grew in popularity in recent years since the cannabis boom. Chemically, the THC O is identical to the Delta-9, the most abundant chemical compound found in cannabis or hemp plants. However, unlike Delta-9, this cannabinoid does not occur naturally.
THC-O is a complex compound that takes precision to synthesize. In fact, the sheer amount of chemicals that are needed for the production. One such chemical is acetic anhydride. This is a colorless chemical that has a broad range of uses, like in explosives, pharmaceuticals, plastic, etc. Moreover, it also requires specific pieces of equipment. Hence synthesizing it is difficult and not recommended outside of a laboratory setting.
Synthesis
To properly understand what is THC O, we have to know about its manufacturing process. The process starts after the CBD is extracted from the marijuana plants. After the CBD is extracted, the Delta-8 THC is isolated from the compound. Delta-8 and Delta-9 share a lot of similarities. However, their chemical makeup slightly differs.
Once the Delta-8 is extracted from the compound, acetic anhydride is added by the scientists. As soon as this reagent is added, a chemical reaction takes place, which transforms the Delta-8 THC into THC O. The process sounds straightforward now, but there are a lot of moving pieces that are present in the whole process, which decide the success rate of the manufacturing.
This manufacturing process is popularly known as acetylation. It is a standard method for enhancing the general bioavailability or potency of any drug. In fact, the popular medicine Aspirin is made by this similar process. Salicylic acid is combined with acetic anhydride, which transforms it into Aspirin. This is a widely practiced method in the pharmaceutical industry. Therefore, it is a generally safe practice.
THC-O Effects
THC-O is believed to be more potent than Delta-9 or Delta-8. Therefore, cannabis aficionados are seen switching to this synthetic THC. Therefore, in order to understand the general potency of the compound, it is only natural that we analyze some of the common effects of the substance. These effects are segregated into three categories.
Cognitive Effects
Like other cannabinoids, the general effects of THC-O are not similar across the board. The THC-O experience can vary from person to person. While some users equate the highness caused by consuming THC-O to that of LSD.
Due to its stronger potency, some users claim that they had an experience near to what a hallucinogenic or psychedelic substance might cause, with intense hallucinations and visuals. Meanwhile, other people claimed that the high was more of a spiritual one that opened up a newer horizon of consciousness.
Read Also: Exploring The Phenomenon Of Candy Flipping: A Guide For Beginners
Physical Effects
As explained in the former section, THC-O is near psychedelic in higher dosages. Therefore, it is only natural that there would be some strong body effects. These effects include a sense of euphoria, a wave of relaxation, and fatigue. The last effect is the more common one, as users widely confirmed that post-consumption, they felt sleepy. As a result, it is more popular as an evening substance.
Read Also: Jumping On The 'Stoner Easy Trippy Paintings' Trend: Top Weed-Inspired Trippy Painting Ideas
Other Side Effects
Apart from the former effects, there are other effects that are not so pretty. It is already proven that the compound THC-O is already a quite potent substance. Therefore, there will be some side effects that the users would face while consuming the substance in any form, be it THC-O gummies, tinctures, etc. These side effects include:
Strong hallucinations.
Increased anxiety.
Loss of bodily Homeostasis or dizziness.
Extreme paranoia.
Incessant vomiting.
THC-O Comparative Analysis
In order to effectively understand the potency and application of the substance, it is very important to see how the substance fares with other similar classes of chemicals. Let us look at a comparative analysis that would help us understand where the THC-O could be put in the food chain.
THC-O vs Delta 8
THC-O and Delta-8 are essentially derived from hemp and share some elevating effects. In fact, both of these chemical compounds interact with the human body in a fairly similar manner. But when it comes to potency, the THC-O takes the cake. Users who have experimented with THC-O and Delta 8 have agreed unanimously that THC-O is the more potent cannabinoid. As a result, the effects produced by the THC-O compound are significantly higher.
Read Also: HHC vs. Delta 8 – Which Is Better And More Potent?
See Also
HHC vs THC-O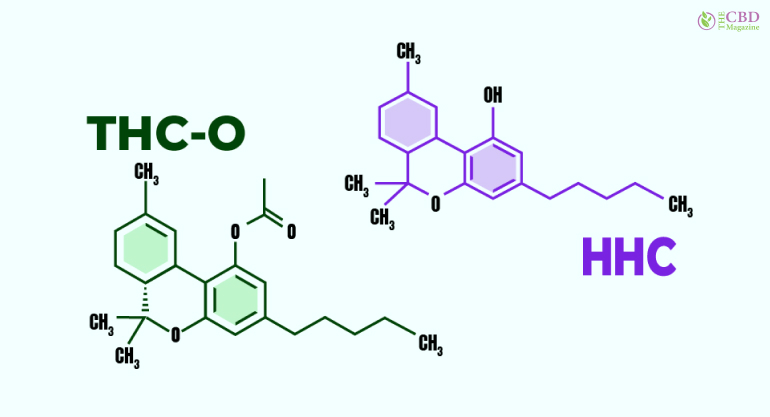 HHC and THC-O fall on two opposite ends of the spectrum if you consider their potency. While THC-O is known for producing really potent high, HHC goes a more subtle route. While THC-O is tagged as a substance you should preferably use at the end of the day, HHC can be consumed in the middle of the day.
The reason behind this is that HHC produces more cognitive highs and increases the general focus of an individual. Therefore, if you want to experiment with both substances, we would suggest that you use HHC for a creative outburst and THC-O for unwinding after a hard day of work.
Legality
Whenever we try and discuss the legality of a cannabinoid, we are venturing forth a gray area. You would not find clear and proper answers to the questions. Every 'yes' or 'no' comes with pre-existing conditions. While some manufacturers of THC-O and THC-O products claim that their products are in sync with the 2018 Farm Bill.
As a result, you can legally consume THC-O or THC-O products in 38 states, namely Utah, Nevada, Nebraska, Montana, Mississippi, Iowa, Idaho, Delaware, Colorado, Arkansas, Arizona, and Alaska. However, as cannabis laws are ever-changing, you should keep track if your state allows the usage of THC-O. Otherwise, you could be charged under class action lawsuits like possession, distribution, etc. The punishment for this can even be incarceration.
Takeaway
In summation, that is all there is to know about THC O, a synthetic cannabinoid that is potent enough to make you see fairies or Santa Claus. As a result of this potency, this is becoming the go-to choice for cannabis users who are looking for a powerful high along with a sound sleep afterward.
Nonetheless, since THC-O is a synthetic cannabinoid, it is suggested that you must be wary. But as for now, go crazy, my fellow cannabis enthusiasts. Keep following this magazine for more such CBD-related content. Peace!
Additional Reading:
samik ghoshal
Samik has been a literature student all along and uses his fluidity to write about multi-niche topics. Aspiring to be a professional writer, he tries to analyze his topic from a critical standpoint but still adds a hint of personal perspective to the end product. Being a person having a general inclination toward global politics and documentary filmmaking, he also wishes to write and document more about numerous conflicts that are brewing in the different corners of the globe.