Don't you think marijuana has a natural connection with gaming? No wonder smoking games are so popular. After all, who doesn't love keeping those good times rolling? And yet, you can never deny that marijuana just doesn't go with all games.
While some gaming experiences only become better when marijuana is involved (remember the hazy nights full of laughs and pleasant days with friends?), there are times things just get frustrating. So today, we have decided to take a long, hard look at ten games to play when you are stoned!
Keep reading to find out! 
The Evolving World Of Marijuana Consumption And Gaming:
It's not a secret that the world and its fellow stoners have moved beyond a matter of joint, or an ordinary bong hit – it's become so much more than just that! With widespread awareness and legalization of marijuana, new ways of experiencing and enjoying this ancient goodie keep coming out.
Marijuana smoking games are designed to build connections, prompt laughter, and provide a traditional alternative to the generational heaps of party games. These games widely differ – from classic board games with a nice cannabis twist to a whole new range of games specifically tailored for marijuana enthusiasts.
These games provide an entertaining and engaging way to socialize, connect, and also bond while experiencing a relaxing high.
As with any kind of social gathering, it's crucial to consider the tolerance levels and preferences of each participant. Remember, you need to consume responsibly and that too within your area's legal limits. Moreover, it is essential to create a comfortable environment that promotes mutual inclusivity and respect.
Whether you are new to the world of cannabis or an expert connoisseur, smoking games are an enjoyable and unique way designed to engage the experience, and not to motivate excessive consumption. With options ranging from creative art to trivia games, there is something for everyone. So get hold of your friends, arrange munchies, light that joint up, and get ready for an evening of laughter, fun, and lots of memories with the best smoking games of all time!
10 Marijuana Smoking Games To Play All Night Long
So now that you are here, let's not waste any more time and check out all the fun weed smoking games; you can play with friends when everyone's high! All you have to do is scroll down and make sure you are sticking to the very end – one stoner never abandons another stoner halfway!
Bong Pong
I remember college – the number of weed games we played, and one such game was Bong Pong! It's similar to Beer Pong, but this one is played with bongs – it's a great game at a party where you guys are running short on weed. You just need a long table, a few interested opponents, and let this game start!
You can always spice things up by changing the kind of bong you are hitting for a unique experience.
Read more: PGR Weed: How to Spot If Your Marijuana Is Toxic?
Heavyweight / Out Smoke U
Out smoke U or Heavyweight is one of those lung-capacity testing games. If you have the habit of playing smoking cigarette games, then this one wouldn't be difficult to understand. All the players have to determine which one of them can handle the most amount of marijuana.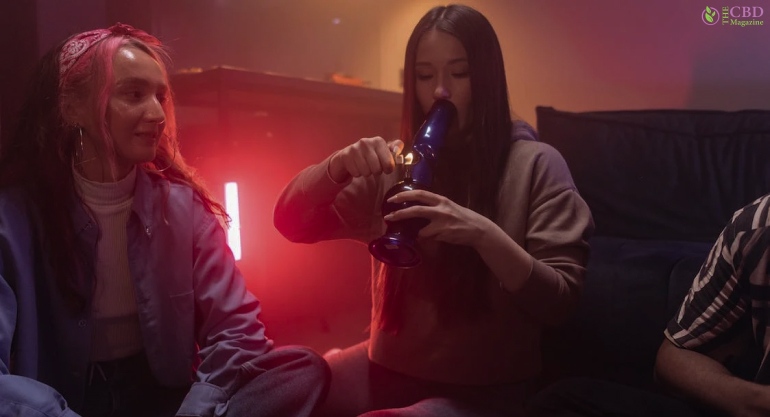 At the very end, the game can serve as one of the best excuses for getting baked. Amidst friends, the game can be an excellent method of establishing bragging rights.
Smoke & Go Seek
Smoke & Go Seek is exactly like hide and seek, only everyone has to be stoned. If you are looking for fun smoking games, then opt for this one! Even the rules of this game are mostly flexible. You can make fun additions, like the seeker has to take one hit before the beginning of each round.
Or you can make everyone take a hit at the start of every round. But, of course, the game will die a natural death when you find everyone opting for the couch as their hiding spot.
Never Have I Ever
Never Have I Ever is one game that never gets old. Yet, it somehow manages to stay relevant even when we are talking about all sorts of smoking weed games. So then, why not a stoned version of this age-old confessional party game?
So ask everyone to say, 'never have I ever…' and the unusual things they have done. Of course, the people who haven't done so has to usually perform some action – in this case, those people will take a hit.
Weed Jenga
I have a confession. It's honestly difficult to understand whether your Jenga experience is improved or not when weed is involved in the mix. While your reflexes are dulled, your nerves are calm and soothing – it seems like a pretty tough call, but you know there's one way you could find out!
How about converting Jenga into one of those killer stoner games that only get better with time? This one is on you guys! You have to tell me all about it.
Read more: Reggie Weed: What It Is and Why You Should Stay Away
Movie Smoke Games
This one's just like your usual drinking game, but only with marijuana instead. All the participants will have to take hits every time any character performs their action. For instance, everyone involved has to take a hit if someone plays Anna Hathway making her "please give me an Oscar" face.
One of the best 420 party ideas of all time, you have to try this game out at the next party. You will not just get stoned but have so much fun.
Hold Your Smoke
I know smoking card games are the best, but sometimes a little change is great – why not try sometime else, like a contest between your lung capacity and willingness? Hold Your Smoke is one game that tests how long you can hold the smoke inside – all of you can do it together if you have a sufficient number of bongs.
The winner gets bragging rights! You can also play the game in pairs, as in one versus the other. It does sound fun…doesn't it!
Spin Wheel
Forget the thunderstruck drinking game or any of those stupid drinking games – let's check out the classic spinning the wheel. Spin Wheels has always been a fun but complex game to be played at a party. But thank God you can set up your spins digitally now – you can, in fact, do so on your tablets or televisions, and you can even customize these for any feature prompts you to need.
All participants have to 'spin' the given wheel and then basically do what the spinner ends up landing on – it could not just be taking a hit; it could also be other things that you guys can decide.
Jammin
Have you heard Bob Marley's song, 'Jammin?' You just have to play the song – every time Marley says 'jamming,' you have to take one hit. But I would like to give a fair warning! The word 'jamming' comes up several times – don't make a big plan post-game! 
This one's one of those smoking games that can make everyone baked really fast – the song's a little more than 3 minutes, so it will only take you three minutes to get baked.
Read more: Certo Detox: Does It Work?
Stoned Musical Chairs
I feel the name is enough to understand what Stoned Musical Chairs is all about! Who doesn't love giving a fun twist to a classic game nobody liked as children? But now, as adults, this game seems like one of the best ways to make sure everyone's on their feet!
But that's not the best part. The best part about this stoner game is how it makes you really stoned, and everyone just ends up laughing and having a great time.
And It's A Wrap!
So now you have a list of fun smoking games that can get you really baked. Umm…what are you waiting for? It's time to score some pot, throw that party, and play some weed games that will make your party a night to remember!
Tell us what you think about playing these stoner games. If you have played such games in the past, tell us all about the same in the comments below.
Read Also:
Barsha Bhattacharya
Barsha Bhattacharya is a senior content writing executive. As a marketing enthusiast and professional for the past 4 years, writing is new to Barsha. And she is loving every bit of it. Her niches are marketing, lifestyle, wellness, travel and entertainment. Apart from writing, Barsha loves to travel, binge-watch, research conspiracy theories, Instagram and overthink.