*Disclaimer: we do not promote or support smoking cigarettes, vaping, or consuming any other addictive substance.*
The United States has seen a steady increase in demand for disposable vapes in the past few years. And if you ask us which disposable vape we are most excited about, then it has to be the Breeze vape.
If you do purchase vapes or closely know someone who does, chances are you have already heard about Breeze vapes. But if you are new to the world of vape, then it is also possible that you have never heard about this vape.
But you have nothing to worry about for one simple reason – we are here to tell you everything that you need to know before you can buy a Breeze vape. Yep, you just have to stay till the end – scroll down to find out more.
But First, What Is A Breeze Vape?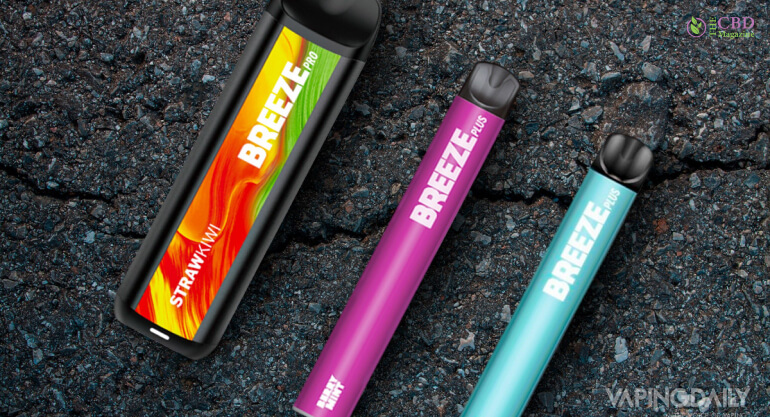 Breeze vapes are products you can often see in the e-cigarette market – the brand's actual name is Breeze Smoke.
Breeze Smoke is one of those brands that can help you enjoy cannabis at your convenience and, sometimes, even discreetly. But there's one catch – unlike most disposable vapes, a Breeze vape is bound to last longer – some of their vapes even come with really good capacities that go up to 6 ml.
There are two major types of Breeze vapes,
Breeze Pro, and
Breeze Plus.
Both types contain no nicotine variants – this is perfect for people who do not want to experience any addictive effects that are directly related to these substances.
Breeze is revolutionizing how people actually consume cigarettes. Compared to traditional consumption methods, the disposable vapes from Breeze make the whole thing so much more convenient. The product's hardware includes a system entirely powered by a battery.
That basically indicates you do not even need a lighter to vape – plus, the product comes in multiple flavors such as Anejo, Candy Cane, Strawberry Cream, Lemon Mint, Pina Colada, etc. This naturally makes the whole experience so much better.
Breeze Vape Overview: Best Flavors, Prices, Types, And More!
As we have already mentioned, there are two main models of the Breeze vape – these are Breeze Plus vape and Breeze Pro vape.
The primary difference between the two models is in their battery sizes and overall capacities. Otherwise, everything else about these products remains the very same. So, without wasting time, let's check these out!
Breeze Pro Disposable Vape: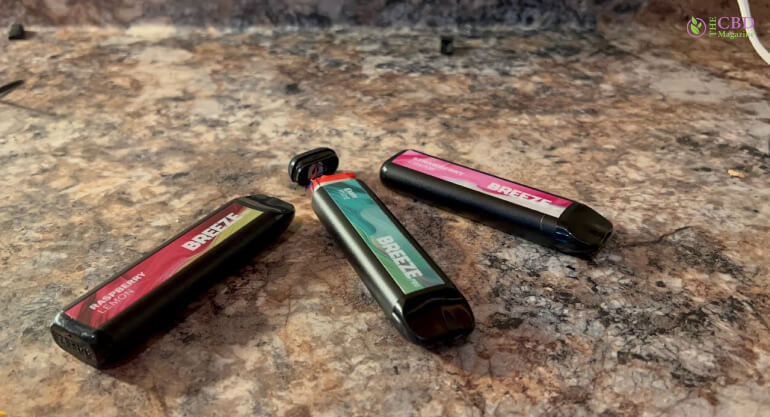 So, let's get started with Breeze Pro, the Breeze vape you absolutely need to check out right away, especially if you have been looking for a convenient way to vape!
Quick Specifications:
These Breeze disposable vapes have been specifically curated for tobacco users. This is one product that is available in 25 flavors and comes with a crazy capacity of 6ml. Before we talk about the battery life or its performance, let's check out the specifications!
E-liquid capacity: 6.0ml
No. of puffs/ device: 2000
Nicotine content: 5% (0 nicotine variant available)
Battery capacity: 1,000mAh
Flavors: 25
Build Quality And Performance:
Breeze weed pens come with a solid recommendation, and the Breeze Pro vape pens are no different.
These come with a nice, flat mouthpiece that can fit so well into the consumer's lips. All the different parts of the vape have been proportionally designed – overall, the product has a really sleek appearance.
Plus, the vape's body shell is made up of very high-quality plastic, and its exterior has a smooth finish.
As we mentioned a little while ago, Breeze Pro has a good battery life and is filled with about 6 ml of e-liquid. While many people can say that not being behind rechargeable is a major drawback, we refuse to agree with them.
The battery has been sized in a way that you can use the same until it becomes completely empty. You don't need to actually worry about the battery power depletion.
Plus, there are 25 breeze pro flavors – regardless of which flavor you opt for, you be pretty satisfied with the product's taste once the smoke starts to roll down your throat smoothly.
The product actually offers an incredible experience with only 5% nicotine – you can also avoid even that percentage of nicotine and instead opt for Breeze Pro Zero-Nicotine.
Number Of Hits:
The manufacturer of Breeze vapes mentioned that the pro version has 2000 puffs – but the number can vary depending on multiple factors.
For instance, if you always take deep puffs, then you will have about 1800 puffs, but if you just take shorter puffs, then it's possible you will get to enjoy 2000 puffs.
Additionally, it can also vary from person to person, like most things in life.
Pros:
The advantages of Breeze Pro Disposable Vapes are as follows,
Comfortable mouthpiece.
The design is solid and stylish.
Satisfying throat hit and flavors.
Available in 25 flavors.
Long-lasting battery.
The draw-activated firing mechanism is reliable.
Cons:
The disadvantages of Breeze Pro Disposable Vapes are as follows,
Non-refillable.
The overall quality of the build looks cheap.
Breeze Plus Disposable Vape:
Before you start looking for 'Breeze vape near me' on Google, let's take a look at the other major Breeze product – yep, we are talking about Breeze Plus Disposable Vape!
Quick Specifications:
Before we get lost in the world of delicious Breeze vape flavors, let's check out the Breeze Plus disposable vape. The Breeze Plus vape has several features similar to Breeze Pro – these include hardware design, nicotine content, operation, flavors, and others.
Also, everyone who does not want any nicotine in their vaping experience will enjoy the 0% nicotine variant of the product as well. Let's check out the specifications of the Breeze Plus Disposable Vape.
E-liquid capacity: 3.5ml
No. of puffs/ device: 800
Nicotine content: 5% (0 nicotine variant available)
Battery capacity: 650mAh
Flavors: 17
Build Quality And Performance:
Besides the battery power and E-liquid capacity, Breeze Plus is just a rebranded version of the Pro model. The device comes with a solid 650mAh battery that can efficiently power the device until the very last drops of the 3.5ml E-liquid is over.
Of course, the battery is non-rechargeable, but then again, you don't actually have to worry about that. The overall battery power of the system will begin to live beyond your general expectations.
Breeze Plus Vapes has a relatively lesser number of flavor options compared to the other type of Breeze Vape. Breeze Pro has 25 flavors, whereas Breeze Plus has about 17 – the Blue Raspberry breeze pro is our favorite, and you will find it in the pro version as well.
We also like the Strawberry Ice and Cool Mint flavor variants of this product.
Number Of Hits:
Breeze Plus Disposable Vape has 200 puffs less than Breeze Pro. The manufacturer of the same specifies up to 800 puffs. But even that can vary from individual to individual, depending on how deep each of your puffs is.
And It's A Wrap!
There are other Breeze products you might love, such as the Breeze Chill THC Vape or even just Breeze THC Vape – both of these are pretty cool, and if you are confused about Breeze vape to check out first, then you can pick either these or the ones we talked about a while ago.
So, tell us, what are your thoughts on Beeze Vapes? If you have tried out Breeze products in the past, feel free to share your experiences with us in the comments below.
Additional Reading:
Barsha Bhattacharya
Barsha Bhattacharya is a senior content writing executive. As a marketing enthusiast and professional for the past 4 years, writing is new to Barsha. And she is loving every bit of it. Her niches are marketing, lifestyle, wellness, travel and entertainment. Apart from writing, Barsha loves to travel, binge-watch, research conspiracy theories, Instagram and overthink.