Smoking hash is a classic and timeless pastime for all cannabis lovers. Knowing how to smoke hash, as a result, is nothing less than art. Good hash is smooth, potent, and definitely tasty. You can easily find high-quality hash at extraction companies and dispensaries.
At the same time, if you are good at trimming as well as handling your favorite strains, then you can easily prepare hash with some simple recipes. Once you procure hash, the question is how do you smoke it – from a simple cup process to the classic hot knife method, we are here with the ULTIMATE guide on smoking hash!
Stay tuned to find out more.
How To Smoke Hash In A Cup?
There are multiple ways to smoke hash. If you are hoping for a big hit, then you can just collect the hash smoke inside a cup and then inhale the same. This is an ideal alternative for people who like smoking hash at a social gathering or a party – or, say, you have left your vape accidentally at home.
Materials:
Here are the materials you will need for smoking hash in a cup.
Glass Cup,
Lighter,
Thin Dab Tool, and
Straw (optional).
Process:
So, how to smoke hash in a cup – follow the steps mentioned below and smoke hash in a cup!
Place your glass cup on any hard surface – ensure that your glass cup is turned upside down and is placed on the edge of the surface with a small portion of its lip peeking out.
Take a little portion of your hash and secure it carefully to your thin dab tool.
Once you have lit the hash, place the tip of your dab tool carefully under the cup's lip. Smoke will start to appear inside the cup.
Either use your mouth or straw to inhale the smoke inside the cup.
How To Smoke Hash In A Vaporizer?
Vaporizing hash is one of the best ways to smoke hash – it's as simple as vaporizing concentrates or flowers.
Hash is characterized by a unique consistency – as a result of which, it can be vaporized in both concentrate and dry herb vaporizers. Perhaps, chambers that are designed specifically for dry herbs might produce a relatively better experience. However, when you do vaporize hash, use temperatures higher than what you used for dried flowers.
That being said, you don't have to heat your hash at high temperatures similar to the ones you use for other cannabis concentrates – say, 400℉ and above.
Process:
Just place a little hash into the vaporizer, warm it up gently by just pushing the heat button two times, and then start enjoying the hash vapor.
Only the best hash pipe can give you the ultimate experience if you want to smoke hash in a pipe. And it's true for whatever method you opt for – similarly, in this case, you need to invest in a reliable vaporizer.
Any good vaporizer will ensure that your stash lasts for a long time, getting you so much more from your flowers. With a good vaporizer, you can identify the scents and flavors of different strains.
Plus – it's good for the environment. By reducing the amount of smoke that's produced, you can feel better about lighting it up all day, every day. The discreet design makes it a great option for on-the-go smoking, and its intuitive structure makes smoking herbs and hash easier than ever.
The Hash Tube Method
The bigger your hash tube, the better. Of course, you do not want to roll it too thin otherwise it will become brittle when it starts drying up. When it has dried up, you need to light the same and then smoke it just like you would smoke a joint.
The Hash tube methods can be a little complex for newbies – So is how is hash smoked using the hash tube method? Scroll down to find out more.
Materials:
Here are the materials you will need for smoking hash with the help of a hash tube.
Wax Paper,
Glass Mason Jar, And
Torch Or Boiling Water
Process:
So, how to smoke hash with the help of a hash tube – follow the steps mentioned below and smoke hash with a tube.
If you know how to smoke hash rosin then this one will be easy for you. First, roll up the hash and the sticky resin into a ball.
Get hold of a wax paper. Now press up the hash ball inside the wax paper – spread it in two layers.
Grab your glass jar and torch. Now heat the jar until it's hot but not enough to ignite the hash or the paper.
Now roll the glass jar over your wax paper, pressing the paper down into a pancake shape.
Once the paper is flattened out, take the hash gently out of the wax paper and subsequently roll the same into a tube.
Now let the hash dry out – it will take around two days.
Once the tube is dry, light it up like a joint and then smoke it.
How To Smoke Hash With A Hot Knife?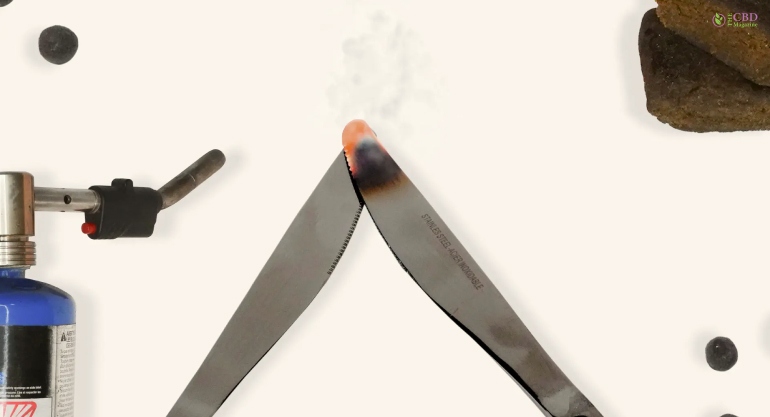 Do you know how to smoke bubble hash? Perhaps, the best way to smoke bubble hash is using a hot knife to do so. And even if you don't have bubble hash, you can still use the hot knife method for smoking some normal hash. After all, the hot knife method is as old as time.
Stay tuned to find out how to smoke hash with a hot knife.
Materials:
Here are the materials you will need for smoking hash with the help of a hot knife.
2 butter knives that are similar to each other,
Stovetop or torch, and
Straw (optional).
Process:
So, how to smoke hash with a hot knife – follow the steps mentioned below and smoke hash with a hot knife.
Start with heating the blades to a medium high with a torch or stovetop. In case you are opting to use a straw, this is the time to put it inside your mouth.
Put a little hash on the hot blade of one knife. Then quickly place the blade of the other knife on top of the knife with the hash – smoke will start rising immediately.
Now it's time to inhale the smoke – you can use the straw or even a bottle. Otherwise, be careful and just take your face close enough to the smoke and then inhale.
And That's A Wrap!
And that's a wrap on finding out how to smoke hash. In this article, we have outlined more than one way to smoke hash – from simple methods to classic ones, we have got you covered.
Now it's your turn to tell us what are your thoughts on smoking hash? And if you have already smoked hash then feel free to share your experience with us in the comments below.
Read Also:
Barsha Bhattacharya
Barsha Bhattacharya is a senior content writing executive. As a marketing enthusiast and professional for the past 4 years, writing is new to Barsha. And she is loving every bit of it. Her niches are marketing, lifestyle, wellness, travel and entertainment. Apart from writing, Barsha loves to travel, binge-watch, research conspiracy theories, Instagram and overthink.