How much is a dub of weed? Now before we answer that question, let us take you on a long journey that looks at the origin of the term and how it got associated with the cannabis subculture. So, without further ado, let us sit back and take a green trip down the cannabis lane to explore the term 'bud' and the myriad of factors related to it!
What Is A Dub Of Weed?
Anybody who has ever scored pot knows that $20 worth of weed is essentially what is called a "dub of weed" or a "dub sack." Now this is essentially a loose way of measuring. In other words, $20 worth of weed could include an amount that is more than is around 1 or 2 grams of weed. This completely depends on the place you are scoring your pot from.
Even though the term dub is essentially associated with weed, the origin of the term is essentially unusual. People would use this term for rims or wheels that were 20 inches in diameter. However, people would often use this term in order to covertly ask about $20 of weed without raising any sort of suspicion. The reason for using this term was to help people score pot without the fear of undercover cops. Therefore, in a way, legality played a huge role in the popularisation of this term in the cannabis subculture.
However, the word "dub" has gone through several iterations over the years before finally being associated with marijuana. Now whenever you hear someone on the street saying "ten-dollar dub" or fifteen dollar dub," it essentially means that the guy is selling $20 worth of weed for $10 or $15. And not "I will bestow honor or title to your name for $10". Do not worry; you will get that reference later on.
How Much Gram Is A Dub Of Weed?
If we go by traditional measurements, then a dub sack of marijuana weighs somewhere around 1 to 2 grams of weed. Now, since the prices of weed have shifted over the course of time, a dub sack can even contain more than 2 grams of weed. Since, in some places, the standard rate for weed is $10 a gram. So, there is no fixed answer to the question, "how much is a dub of weed."
Still, if you are buying your weed from a dispensary, then get ready to get 1 or 2 grams worth of weed for $20. Therefore, making the black market seem like a more profitable choice.
However, when you are talking about the black market, there is always the question of cops and the legality that comes with it. If you are caught with an unlicensed product from the black market, you can be charged with a hefty fine or even jail time. So, it is a balancing act.
Since the measurement of 'dub' is essentially a loose method of measuring. Therefore, it is quite difficult to measure the exact amount in any sort of metric or value. Nonetheless, just know that the value of a dub of cannabis would depend upon the supply-demand of the cannabis market. Like for example, a dub of weed would have a higher amount of weed in New York than in the states of Colorado and Oregon.
Another factor that you need to consider is that of legality. In some states, cannabis products are legal, but one cannot buy cannabis for use. And finally, black-market prices can also affect how much is a dub of weed in grams. Therefore, it is a complex question to crack.
Lastly, the potency of the weed is also a key factor in determining how much is a dub of weed in grams. Like for example, if you are buying an exotic strain like the Cereal milk strain or the Slurricane strain, then expect your dealer to provide only 1 gram of weed for a dub. However, if your dealer provides more weed for $20 worth, then the product he is pushing is probably a generic strain.
So, as you can see that the answer to the question, "how much is a dub of weed" is essentially a complex one, so to speak.
Is 'Dub Sack' Slang?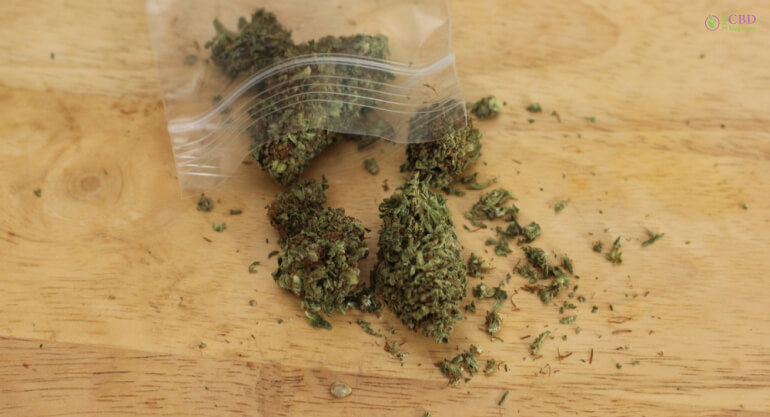 Now, we have reached the most important part of our discussion. Are "dub sack" or "dub of weed" just slang that should not be used in public?
Now, the answer is yes and no at the same time. Whenever you go to a dispensary and approach a budtender and ask him for a "bud of weed," he would look at you all perplexed and sometimes even a little offended even. Does it mean that they do not know what a bud actually is?
No. They are well aware of what it means; it is just that the word has some serious black market connotation attached to it. This is why budtenders try to avoid the term altogether.
Moreover, some dispensaries consider calling weed 'flower' or other such neutral terms. Therefore, when you walk into such dispensaries, you cannot go on about asking for a "bud of weed" as it can seem 'uncouth.'
Therefore, even if you do not agree to such double standards, you need to show some level of acceptability. Moreover, this is purely a black-market term that has a strong sense of legality attached to it. As a result, using it in a professional cannabis firm is essentially not an advisable practice.
Given how cannabis culture is becoming more and more mainstream, it is very likely that such terms would probably be rendered obsolete with time. However, it would not happen overnight.
Final Thought.
In summation, a dub of weed refers to $20 dollars worth of weed that you can buy. However, about the answer to the question "how much is a dub of weed," then things become trickier. For some people, it could be a gram; for others, it could be more than that.
Therefore, there is no specified amount that you get when you ask for a dub. Since this is a black market term, the value is not fixed, nor is the term well-received in the legal cannabis industry. For more weed content, keep following our page.
Additional Reading:
samik ghoshal
Samik has been a literature student all along and uses his fluidity to write about multi-niche topics. Aspiring to be a professional writer, he tries to analyze his topic from a critical standpoint but still adds a hint of personal perspective to the end product. Being a person having a general inclination toward global politics and documentary filmmaking, he also wishes to write and document more about numerous conflicts that are brewing in the different corners of the globe.