Do you vape because of the experience or the flavor? Now, your answer can differ from your fellow reader. However, you cannot discredit the role flavor plays in the vaping experience. So today, we will see some of the most popular ESCO Bar flavors in the market currently.
What Is ESCO Bar?
ESCO bar is a popular vape brand of disposable vapes that you can check out in 2023. Sold primarily by a Texas-based company named Pastel Cartel. These vapes come in a ready-to-vape format. This means you can use the vape right out of the packaging, with no need for any sort of setup.
ESCO Bar comes with a pre-filled e-juice that contains 5% or 50 mg/ml nicotine salts. What many people does not know is that the company specializes in vaping device and not e-juice. As a result, the company makes the device and acquires the iconic ESCO Bar flavors from reputed brands like Fuitia, Ripe, Noms, Kilo, and Aquios' H2O e-juice as water-based e-juice.
Like every other disposable vape on the market, ESCO Bars are not at all refillable. This means you can not change your ESCO Bar vape flavors. Therefore, you have to stick to one flavor once you buy a vape.
Top Vapes From The Company
ESCO Bar is a company that sells a myriad of options when it comes to innovative vaping devices. Each of these vapes caters to a different niche of clients. The company usually sells devices that have a puff count between 2500 to 6000. This can usually last a casual smoker up to a month, depending on their usage.
The company provides four variants of vapes that have a different look and feel, along with different features. Now, let us look at some of the best vapes from ESCO Bars that you can buy. However, before we proceed, we just need to clarify that none of the vapes are listed according to ranks.
ESCO Bar Mesh 2500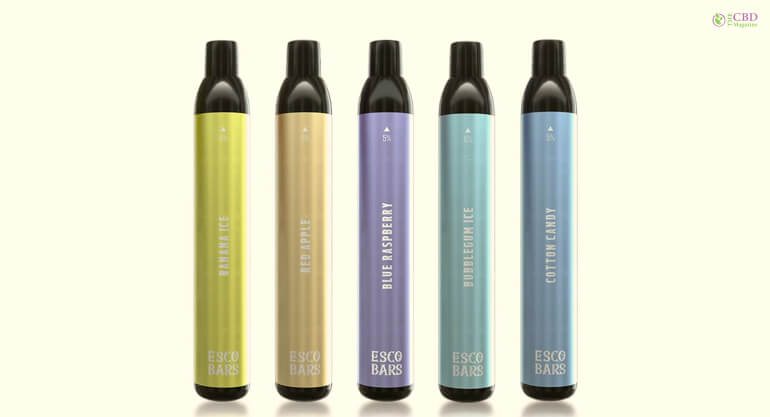 This is a pen-styled vape that you can pick from the ESCO Bar vapes.
They have an approximate puff count of around 2500 puffs.
They usually contain 6 mL of nicotine salt e-juice with 5% nicotine strength.
These vapes come with a 1000 or 1100 mAh battery that is non-rechargeable.
ESCO Bar 4000
This is also a pen-style vape with bold metallic colors.
They have a puff count of around 4000 puffs.
They contain 9 mL of nicotine salt e-juice with 5% nicotine strength.
These vapes come with a 1500 mAh battery that is non-rechargeable.
ESCO Bar Mega or ESCO Bar 5000
Although it is also a pen-style vape, but it is much wider than usual.
These vapes have a puff count of about 5000 puffs.
They contain 14 mL of nicotine salt e-juice with 5% nicotine strength.
Unlike the former two options, these vapes come with a 600 mAh rechargeable battery. They can be easily recharged using a type-C cable.
ESCO Bar 6000
These vapes are truly box-style vapes that would remind you of an Elf Bar vape.
Unlike any other vape on this list, this is the only vape that has a user-adjustable airflow system.
Depending on the airflow of the device, you get an average of about 6000 puffs.
They contain 15 mL of nicotine salt e-juice with 5% nicotine strength.
Like the ESCO Bar 5000, these vapes also come with a 650 mAh battery that is rechargeable via a Type-C USB cable.
Best ESCO Bar Flavors You Need To Try.
Even though the company acquires its e-juices from third-party vendors like Fuitia, Ripe, Noms, Kilo, and Aquios, they still manage to bring some new flavors to the market every now and then. Therefore, let us look at all ESCO Bar flavors that you can check out in 2023. So that you can decide which ESCO Bar flavors you want to try. Again, this esco bar flavors list is not an 'ESCO Bar flavors ranked" list. SO, with that note, let us dive right in.
Mango Tango
This is a tropical flavor that would remind of beaches and fresh mangoes with each puff. This falls under the category of fruity, as it offers a punch of fruity flavors along with a great vaping experience.
Blueberry
Another candidate of the fruity flavor category. This flavor would remind of freshly picked berries along with every puff. According to some vaping forums, this is one of the best ESCO bar flavors in the market right now.
Creamy Strawberry
This flavor mixes things up by combining two complementary flavors. While hitting, users define the flavor to be somewhat creamy, along with a hint of strawberries. Therefore, falling mostly under the dessert flavors. Which is again quite a popular flavor amongst vapers.
See Also
Cool Mint
This is a flavor that is meant to keep the user energized and alert. With a sharp and crisp flavor, this is all about stimulating the taste buds in your mouth to the fullest. The chilly blast of menthol would take away your fatigue and would make you feel fresh.
Caramel Espresso
Quite a unique combination that can hardly be seen in the vaping community. However, it is a dream come true for all the coffee enthusiasts. Users explain the flavor to be a robust mix of coffee with sweet caramel. Therefore it creates a unique experience that can be an acquired taste at first but is gradually becoming one of the most popular new ESCO Bar flavors on the market.
That Is A Wrap!
So, there you go, some of the best ESCO Bar flavors that you should try in 2023. However, be mindful that the company is constantly innovating and bringing newer flavors to its diverse clientele. At the time of writing, these were some of the most popular flavors that ESCO Bars released in the market.
Additional Reading:
samik ghoshal
Samik has been a literature student all along and uses his fluidity to write about multi-niche topics. Aspiring to be a professional writer, he tries to analyze his topic from a critical standpoint but still adds a hint of personal perspective to the end product. Being a person having a general inclination toward global politics and documentary filmmaking, he also wishes to write and document more about numerous conflicts that are brewing in the different corners of the globe.