What is Stardawg strain? What are its effects? Why is it relevant? If you are looking for answers to these questions, then you stumbled upon the right article. This guide is meant to be a comprehensive guide to the legendary Stardawg or Star Dog strain that has gained widespread popularity and recognition. So without further ado, let us dive right in.
History Of Stardawg
Stardawg strain, also popularly known as the Star Dog strain, is a pretty well-known strain in the cannabis community. With a rich origin story, this strain is a favorite for growers as well as consumers. In fact, several popular cannabis magazines and users claim it to be one of the most prominent strains to originate out of the Bay Area, California. When breeders were breeding this strain, their sole aim was to bring forth something that would provide a skunky flavor paired with an energizing high.
The Stardawg strain is a mostly Sativa-dominant strain, with around 60% sativa and 40% indica. As a result, it is known for providing an energizing high. Since the sativa holds center stage, it is also popular for its mood-altering capabilities. Even though Indica takes a back seat, its effects can still be felt. Alongside a mood-altering capability and energizing high, this strain is also popular for its relaxing effects on the human psyche. Therefore, it is a perfect strain if you are consuming in order to feel relaxed and centered. 
Who Are The Parents?
Stardawg is essentially a hybrid strain. In fact, it is easily one of the most popular hybrid strains in the United States of America. The first strain that was introduced in the mix was the classic Chemdawg #4. This is an iconic strain that boasts a huge THC level and an iconic citrusy flavor. 
The second parent strain that was introduced was the Tres Dawg. This strain is popular for creating potent feelings of munchies in the users. Also, due to its Afghan origin, it is potent enough to create a strong stoning effect among the individuals using it. In fact, the iconic skunky flavor of the stardawg weed strain is because of this parent strain.
While crossing, breeders created a balanced hybrid that retained the characteristics of both the parent strains. Therefore, the Stardawg strain demonstrates the active high of Chemdawg and the strong stoning effects of the Tres Dawg. As a result, it can be called the best of both worlds.
Why Is It Popular?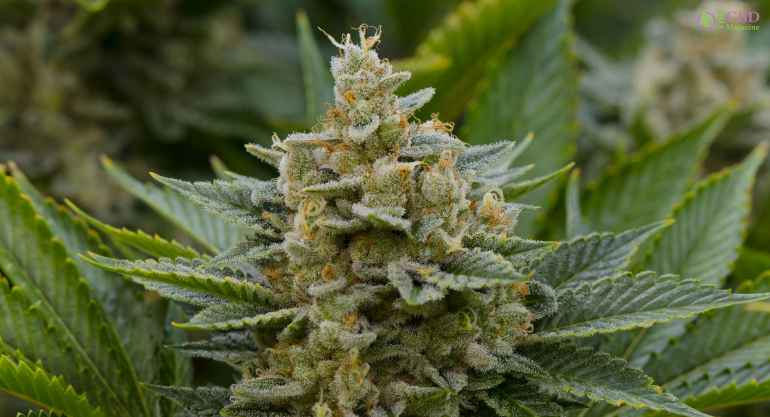 One of the primary reasons for the popularity of the strain is because of its rich lineage. For years, the Chemdawg strain has enjoyed raging popularity. Its influence can be felt not only in USA's market but globally as well. In fact, a famous publisher named High Times lauded the Chemdawg to be the strongest weed strain in the world. As a result, it won several accolades and worldwide recognition.
Several famous celebrities like Wiz Khalifa, Snoop Dogg, and even Chong of the famous Cheech and Chong duo are known to be active users of the Chemdawg strain.  Naturally, when Stardawg hit the market, cannabis aficionados flocked to try out the new strain. And to people's surprise, it did hold up great. The elements of Afghan kush really gave a relaxing effect which was missing from the Chemdawg strain. In fact, the new skunky flavor of Stardawg was a welcome addition to the citrusy flavor of Chemdawg. 
Along with the USA, Stardawg has also made its way to European markets like the UK and Netherlands. In fact, the strain is so popular in the UK it enjoys a top position alongside the national favorite Cheese. Therefore, it is safe to say the Stardawg strain is the OG of hybrid strains with several accolades and recognitions under its name.
Flavor And Aroma
The cannabis market is full of strains that offer fruity and sweet flavors. However, when you look at Stardawg, it harks back to the classic skunky flavor. This is why it is popular amongst old-school cannabis lovers who want their marijuana to pack a punch. The presence of high levels of sulphuric compounds underlines the flavor of the strain that can come off a mixture of skunk and diesel. This interesting flavor profile is what brings cannabis users, and the highness of the substance makes them stay. People say that it brings back a sense of nostalgia amongst users.
Terpene Profile
This Stardawg strain review would be incomplete without analyzing the terpene profiles of the substance. Terpenes are chemical compounds that add flavor to a strain. Even though terpenes take a backseat in this strain as the sulfur compounds usually dominate the flavor profile. However, there are terpenes present, and knowing them is seminal for understanding the general flavor of the strain.
Caryophyllene
This substance is an interesting compound, as it can be categorized as a terpene as well as a cannabinoid. This provides a soothing effect on the nerves of the users to an otherwise energetic high of the Stardawg. It kind of balances the experience.
Limonene
This is a substance that is predominantly found in citrusy fruits like lemon, orange, etc. This works more like a catalyst that drives the whole experience forward. It works side by side with the existing THC in the substance and creates a clear-headed effect that keeps the user aware and functional.
Myrcene
This is a chemical that is predominantly found in mangoes and lemongrass. This is a prominent chemical that adds a body high. It would make your muscles de-tense. In other words, if your muscles feel tensed up, this chemical relaxes them.
Effects
Till now, we have discussed how the Stardawg might feel based on the observations of the parent strains. But this section will bring you all the important details about the effects of the Stardawg weed strain. The general effects of the Stardawg are:
Mind High
This means that the strain would stimulate your mind and make you feel focused and energetic. It would help you to deal with anxiety and depression. In fact, if you are in a creative field, it would definitely help you with that, as it would fire up your brain and make it work overtime.
Body High
Due to the presence of a 40% Indica strain and the myrcene, it would make blow over you like a wave of calmness and relaxation. It would make you feel relaxed and de-stressed. It would also help you unwind after a hard day and make you sleep better. Moreover, it can increase our general appetite. Therefore, anorexic patients can be helped using this strain to a great extent.
That Is A Wrap!
In summation, that is all there is to the origin and effects of the Stardawg strain. If this strain sounds amazing, you can also check out the Stardawg Pie strain. This is a hybrid between Stardawg and Grape Pie strains which is making huge waves like its predecessor. For more CBD-related content, keep following our magazine.
Additional Reading:
samik ghoshal
Samik has been a literature student all along and uses his fluidity to write about multi-niche topics. Aspiring to be a professional writer, he tries to analyze his topic from a critical standpoint but still adds a hint of personal perspective to the end product. Being a person having a general inclination toward global politics and documentary filmmaking, he also wishes to write and document more about numerous conflicts that are brewing in the different corners of the globe.