Cannabis is one of the most beautiful substances on this planet. So many people – including the Hindu mythological god Shiva, the Destroyer – used cannabis regularly. Cannabis is commonly known as weed, pot, or ganja in the west and is smoked by youngsters to get stoned – feel a great sensation of high and euphoria. 
While most users smoke weed, many people have found out that you can creatively use cannabis for cooking food. Therefore, this article is dedicated to stoners who want to try their hand at cooking with cannabis and see what tasty and high-inducing dishes they can come up with. 
How To Cook With Cannabis?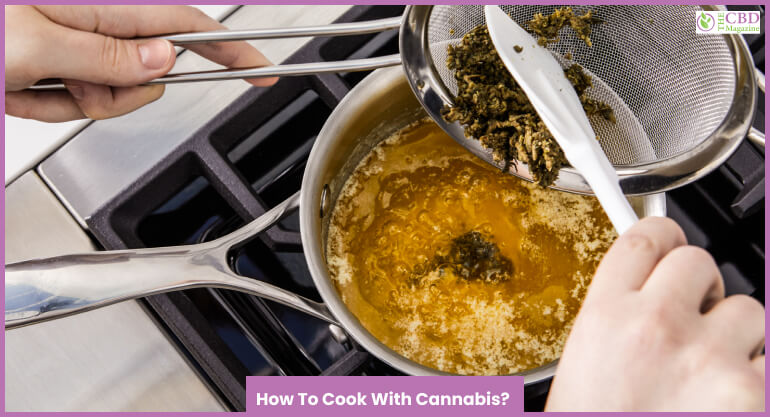 Cooking with cannabis can sound like an excellent idea to many stoners. However, while smoking some kush can make you creative, wasting that creativity on useless activities is pointless. Therefore, get high, and start cooking some pot.
But how do you do that?
Baking with cannabis is one of the most popular and common ways to cook pot. Harem, cannabis is used to create some sweet, chocolatey cakes that melt in your mouth when. However, the real fun begins after it melts in your mouth and goes inside your stomach. 
While smoking cannabis makes you high faster, eating cooked cannabis gives you a milder high after a long time. It also makes you stay high and creative for a more extended period, helping you enjoy the positive vibes.
To make any dish using cannabis, you first need to make cannabutter and canna olive oil. This butter with all the CBD and THC in it gets used in cooking dishes that make you high. 
Popular Cannabis Recipes
If you want to know what to make with Cannabutter, you have these eight great recipes that you can learn to start cooking with cannabis!
1. Canna Butter/Olive Oil
If you want to learn cooking with cannabis, then Cannabutter is the first thing you should learn to make. You need to know how to make Cannabutter because this gets used in every other dish made with cannabis. Therefore learning this is crucial if you want to become a canna-cook (pun intended). 
To make Cannabutter, you will need:
Cannabis Bud
Butter/ Olive Oil
2. Canna Tea
Canna tea is another easy beverage that you can make any time with cannabis. Also, Canna tea is healthy because it gives you all the health benefits of drinking tea, along with the heightened sense of euphoria that you get from consuming weed. If you want to learn to cook with cannabis leaves, then you need these items:
Cannabutter/ Cannabis Olive Oil
Water
Tea Leaves
Sugar (optional)
It's highly beneficial you learn how to make this because it is a great drink that you can have after a tiring day at work. It helps you get high in the most gentle way possible. So relax, open Netflix, make some canna tea and enjoy the next few hours lost in transition. 
3. Canna Pasta
A fan favorite amongst stoners, canna pasta is difficult to make. All the recipes starting from this are not easy to make. Therefore, having basic culinary skills is required. Canna pasta is vividly tasty, and it also gets you high – the perfect combination. To make this, you need:
Cannabutter (1 tablespoon)
Virgin Olive Oil (½ cup)
Mint Leaves (¾ cup)
Parsley Leaves (½ Cup)
Snipped Chives (¼ Cup)
Poblano Chiles (2)
Cubano Pepper (1)
Shishito Peppers (2 ounces)
Kosher Salt 
Pepper
Shallots (3)
Garlic Cloves (4)
Drained Capers (2 tablespoons)
Mustard seeds (2 teaspoons)
White Wine (1 cup)
Clam Juice (2 cups)
Clams (3 and a ½ dozen)
Pasta (12 ounces)
Unsalted butter (3 tablespoons)
Lime Juice (2 tablespoons)
4. Canna-Infused Citrus Caramel Blondies
If you have a sweet tooth just like me, then you must need canna-infused sweets to satiate your sweet tooth. These super-sweet blondies go well with getting high and cooking with cannabis, because who does not like getting high in the sweetest way possible?
To make this blondie, you need:
Cannabutter (4 tablespoons)
Orange Zest (½ tablespoon)
Eggs (2)
Baking Powder (½ teaspoon)
Flour (1 cup)
Kosher Salt (1 teaspoon)
Sugar (¼ granulated)
Heavy Cream (3 tabelspoons)
Unsalted butter (4 tablespoons)
Sugar (1 cup)
5. Canna-Infused Olive Oil Citrus Cake
If you are looking for a great weed cake idea, then this is it. An olive oil citrus cake might not sound appetizing, but you will want more of it after eating it. This dessert has the same texture as a cornmeal cake and is sweet. 
To make this cake, you need:
Canna Olive Oil (¼ Cup)
Flour (¼ cup)
Baking Powder (2 teaspoons)
Kosher Salt (¾ teaspoons)
Sugar (1 cup)
Virgin Olive Oil (½ cup)
Milk (¼ Cup)
Lemon Zest (1 tablespoon)
Orange Zest (2 tablespoons)
Vanilla Extract (1 teaspoon)
Eggs (3)
Sugar (1 cup)
6. Canna-Infused Chocolate Pretzel Cookies
Many stoners often consider cooking with cannabis to make cookies their favorite food after getting stoned. If you are one of these people, then you will be super thrilled to know that you can eat cookies while getting stoned too. Using chocolates and pretzels alongside canna oil, you can make this by:
Canna Infused Olive Oil (¼ Cup)
Flour (2 cups)
Baking Powder (2 teaspoons)
Kosher Salt (1 and ¼ cup)
Sugar (2 cups)
Cocoa Powder (1 cup)
Virgin Olive Oil (2 tablespoons)
Eggs ((4)
Vanilla Extract (2 teaspoons)
Chocolate Covered Pretzels (2 and 1/2 ounces)
7. Canna-Infused Salted Caramel Fudge Brownies
Now the time has come, got you to make the good old weed brownies. While you need no introduction about this food, you will need:
Cannabutter (2 tablespoons)
Sugar (1 and ¼ cup)
Water (3 tablespoons)
Heavy Cream (¾ cup)
Butter (4 tablespoons)
Salt (1 and ½ teaspoons)
Chocolate Flakes (10 ounces)
Vanilla Extract (2 teaspoons)
Kosher Salt (½ teaspoon)
Eggs (3)
Flour (1 cup)
8. Canna-Infused Brioche French Toast
Herb cooking with cannabis can seems like an excellent idea for many. While it certainly is, cooking with cannabis wax can be pretty fun too. To make french toasts with cannabis, all you need for your Sunday morning breakfast are:
Cannabutter (1 tablespoon)
Strawberry Jam (¼ Cup)
Brioche (4)
Eggs (3)
Heavy Cream (¼ cup)
Sugar (2 teaspoons)
Butter (4 tablespoons)
Lemon (1 ½ slice)
Conclusion
Cooking with cannabis is a fun way to spend your weekend. All you need are some great friends, cannabis, cooking ingredients for the recipe, and then the motivation to cook. So what are you waiting for? Select one of the seven recipes mentioned above and start cooking with cannabis now to get the tastiest and sweetest high possible!
If you want to read other articles about cannabis, share this with your stoner friends and read our other lit articles!
Additional Reading: