Want to know more about the new Gelato Cake Strain? Rest easy, you stumbled upon the perfect guide that not only introduces this iconic strain but also discusses aspects like genetic mapping, flavor profile, medical benefits, effects, and everything in between. So relax as we take you on a journey to understand this strain from the inside out.
Genetics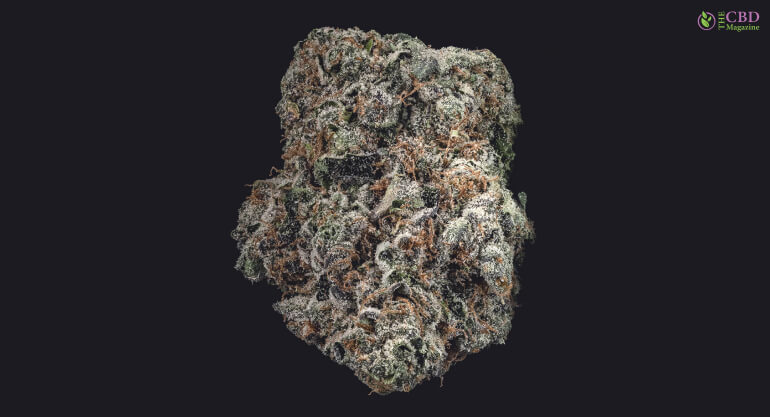 The Gelato Cake Strain or the Gelato Wedding Cake Strain is a hybrid marijuana strain that was originally created in California by combining two iconic strains, namely, Gelato #33 and the exotic Wedding Cake strain. So, if you want to know whether Gelato Cake Strain indica or sativa, you have to stick around a bit longer. Knowing the genetic mapping of the strain is seminal in understanding the strain from the inside out.
The delightful Wedding Cake Gelato Strain, or simply the Gelato Cake Strain, is primarily an Indica-dominant strain that boasts a whopping 25% THC. Therefore, it is obviously not suited for new users who are getting into cannabis culture or frequent users. Due to the high THC content, it is enough to make an individual see Jesus and hear colors. But, if you are somebody who enjoys cannabis on a regular basis, this would give you a nice buzz that can help you go off to bed easily.
Users who enjoyed the Gelato Cake Strain also loved other strains from the same family, like the Gelato Ice Cream Cake Strain, Cherry Gelato Cake Strain, and the most exotic Pink Gelato Cake. All these strains, like our strain of honor for the day, have high THC content and offer a unique experience. As a result, the Gelato family of weed strains has become one of the most popular strains in the cannabis community.
Characteristics
Like every other Gelato weed strain, the Gelato Cake Strain also boasts a sweet, fruity, and citrusy flavor profile that is characterized by compact buds. Even though this is an Indica-dominant strain, it also shows great sativa qualities due to its parent strain, Gelato #33. Users reported that they felt more focused and euphoric after consumption of this strain. Therefore, it is Gelato #33 that gives the Gelato Cake Strain its sativa-like qualities.
On the other hand, Wedding Cake is an Indica-dominant strain which gives our strain question its couch-locking capabilities. This is characterized by an earthy pepper flavor that can also be found in the final product.
Therefore, after knowing the parent strains, it is quite evident why the Gelato Cake packs such a punchy high coupled with a sweet, fruity, and citrusy flavor to go along with it. Hence, if you do not like skunky flavored weed, then this strain might be the perfect one for you. It can get you quite high with a 25% THC content, along with a palatable flavor that would stick around for a while. As a result, it is quickly gaining popularity, equivalent to Sunset Sherbet or Northern Lights.    
Effects
Some users explain the taste of the Gelato Cake strain is equivalent to a vanilla-like taste, along with the fruity flavor of berries. As a result, many users tend to consume a lot more than usual. However, this is a very potent cannabis that should be approached carefully.
Hence, knowing the general effects of the strain is something that would greatly help you to approach this unique strain. In general, this strain is known for creating a balanced high. In other words, this strain provides a mix of body as well as a cerebral high that can help an individual stay focused in general. The high THC content and balanced high make it perfect for recreational usage
Even though the high of the wedding cake gelato strain is evenly balanced on most fronts. Still, it can be too much at times, especially if you are somebody who is not used to strains with high THC levels. Some of the most common side effects of this strain include cottonmouth, red eyes, poor orientation, etc. However, in extreme cases, individuals reported losing their sense of self, vomiting, losing consciousness, slurred speech, or passing out.
Nobody can anticipate a bad trip. But you can certainly avoid one if you follow some general rule of thumb. Start slow. Gelato Cake Strain is one of the most potent strains. It is 75% Indica and 25% sativa, and with a THC level of around 25%. Therefore, if you are not used to such a strong strain, you should start with small dosages and then work your way up to stronger dosages to your liking.
Medicinal Benefits
Even though most people opt to try this strain out for recreational purposes, some people gravitate towards this strain for medicinal purposes. And like most other strains that we covered on our page, this strain has some potent medicinal purposes as well. However, we would like to clarify that if you are thinking of using this strain for medicinal purposes, then you need to consult a physician first.
See Also
According to researchers, one of the biggest medical benefits of this strain is its capability to alleviate pain and reduce muscle tension. The Indica-dominant nature of the strain is perfect for loosening up your body, which helps with pain and inflammation. In fact, doctors suggest that if somebody is suffering from chronic pain, then the individual can give this strain a try. It would effectively help the individual in question to manage the pain.
This is a strain that is perfect for somebody suffering from sleep disorders of any kind. The high THC content and Indica-dominant nature of the strain are perfect to put you off to sleep. In fact, users reported that they have started sleeping better after consuming this strain before bed. 
Lastly, it can help people with mood-altering disorders like anxiety, depression, etc. Even though the strain only has 25% sativa, it still has a potent capability to help people feel a sense of euphoria and calmness. Therefore, helping individuals who suffer from frequent bouts of panic attacks or something equivalent.
Closing Thought
There you go, all the information that you need regarding the new up-and-coming Gelato Cake Strain that has taken the cannabis community by storm. With its unique blend of flavor and high THC content, this strain has become perfect for individuals who want to try something new. Keep following this page to discover newer and more unique strains. See you soon!
Additional Reading:
samik ghoshal
Samik has been a literature student all along and uses his fluidity to write about multi-niche topics. Aspiring to be a professional writer, he tries to analyze his topic from a critical standpoint but still adds a hint of personal perspective to the end product. Being a person having a general inclination toward global politics and documentary filmmaking, he also wishes to write and document more about numerous conflicts that are brewing in the different corners of the globe.