If you have a sweet tooth, then you probably enjoy smoking dessert weed strains!
There are so many options, most of which originate from the basic Gelato lineage. One such strain is named the Ice Cream Cake strain aptly, owing mostly to its flavors. This strain has the flavor, and it's also potent – what more do you need?
This is precisely why you need to check out this delectable strain, especially if you are a fan of taste and aroma when it comes to trying out new strains.
So, stay tuned to find out more about this miracle strain.
Ice Cream Cake Strain: Complete Guide For 2023!
Welcome to CBD Magazine's Ice cream cake strain review – today, we will talk about everything that you need to know before you can try out the Ice Cream strain. If you are a fan of other delectable strains like the Princess Haze strain, the Purple Cookies Strain, or the Frosted Gelato strain, then chances are you will enjoy the Ice Cream strain as well.
So without wasting any time, let's get started with the Ice Cream Cake strain – scroll down to read more about the same.
Ice Cream Cake Strain: Genetics And Appearance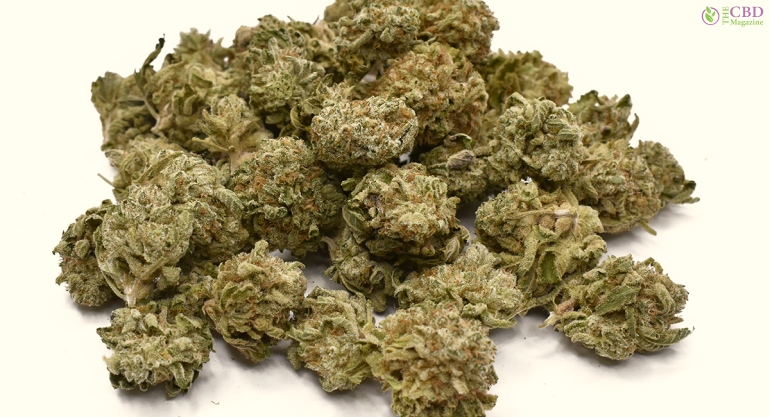 So, what strain is Ice Cream Cake? This strain is more common than you actually expect it to be – understand that popular strains like this one usually have various lineages depending on who is cultivating the strain. This is also why the strain is listed in the basic genetics libraries of multiple breeders.
Perhaps, the most popular version of this strain was originally bred by the legendary Seed Junky Genetics, already acclaimed for creating other famous strains like Kush Mints, Jealousy, and Wedding Cake.
Seed Junky Genetics crossed Gelato #33 with Wedding Cake, thereby crossing two of the most popular Indica-dominant strains of all time. Another famous breeder, Mad Scientist Genetics, crossed Dream Cookie with Cheesecake for their Ice Cream strain – both these strains have Blue Dream and Girl Scout Cookies in their genetic lineages.  
The Ice Cream Cake strain is a purple-colored flower with green and orange accents accompanied by a thick coating of creamy trichomes when these are grown properly.
If the density of trichomes is more, then that indicates an increase in flavor and potency since these are resin glands that house a marijuana plant's terpenes and cannabinoids.
Ice Cream Cake: Flavor, Aroma, And Effects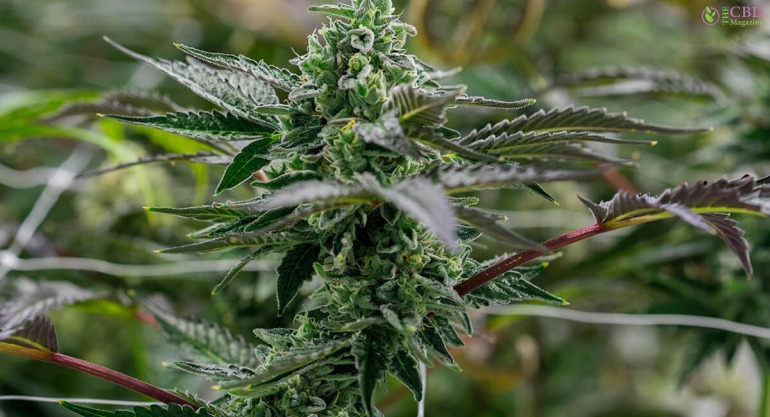 If you have bold tastes, you can never really go wrong with the Ice Cream Cake strain. It taste like a blend of frozen berries, vanilla, and sweet cake icing accompanied by hints of gassy diesel, so prominent in cannabis.
This powerful blend comes with a killer terpene profile comprising of,
caryophyllene,
myrcene,
linalool, and
caryophyllene.
Limonene is a chemical that diffuses fruit peels with a citrusy essence – you will find high levels of the same in different strains, such as Super Lemon Haze and Lemon Tree.
You might hear that Limonene can actually contribute to any strain's uplifting effects, making the strain ideal for daytime consumers. While there are some consumers say that the Ice Cream Cake strain elevated their mood, a majority say that both sleepiness and relaxation are commonly associated with the same.
Potentially, you can blame this impact on the myrcene percentage in the strain – myrcene is commonly found in lemongrass and mangoes. Strains such as Pineapple Express and OG Kush all have heavy levels of myrcene.
It is the terpene percentage that is commonly attributed to different Indica-dominant strains simply for how these strains can ensure that consumers are glued to their couches.
More On Flavor, Aroma, And Effects:
If you find spicy, earthy echoes of cloves, cinnamon, and pepper in the ice cream cake marijuana strain, then you should just thank the terpene called caryophyllene. Caryophyllene is also responsible for getting you the kick you feel when you consume GSC or any strain in its family, which you can easily trace via it's Gelato lineage.
If you do detect any extra floral touches in the Ice cream cake weed strain reminding you of Jasmine and Lavender, then it hails from Linalool. It is also possible that this is precisely why people often say that this strain can put you in a chill space.
Just imagine you are sitting in your room – the room smells of lavender. How do you feel? Isn't the lavender making your feel laid back?
Yes, cannabis does affect different people differently. Having said that, if you are seeking downer effects, then the ice cream cake strain will definitely take you there.
See Also
Consumers have frequently talked about how their happy relaxation swiftly converts into sleepiness. The strain will first hit you with this cerebral feeling, but that feeling definitely slides down from the top into a body-numbing high that will make you feel comfortable.
So, it's normal to be prepared for a long-lasting high that might inspire you to spend some more time lying around.
The Ice Cream Cake Strain Review: The User-Reviews You Needed!
If the ice cream cake strain effects haven't convinced you yet, then check out the user reviews mentioned below to get a fair idea about the ice cream strain.
Review By Lkimbrell1401:
"This is one of my fave strains. I've had this many many times, and I got ahold of one shake that I'm using to make feco out of that I'm totally pumped for. I have multiple sclerosis, and this strain is a really great medicinal strain right along with its cross of wedding cake, which I'm also making a feco of too that is a wonderful medicinal strain too.

The fave buds I've seen of ice cream cake have been a beautiful dark purplish black. I'm OBSESSED with any flower that is an indica dom with dark birds. Personally, they are my fave bc I reap good medicinal benefits from dark-hued flowers."
Review By BGM-138:
"Tried it for the first time last night. 29% THC. I've been looking for a good indica to help me rest at night this may be the winner. The flavor was intense, the effects wash over you, putting you in a super relaxed state, no paranoia and it also kept the aches and pains in check and allowed me to get several hours of decent rest. I'm a fan."
Review By ChemPharmer:
"Terrific cut of Ice Cream Cake. Great nose and surprisingly great legs with a powerful effect. Blazing bag appeal and checks all the boxes. Awesome affects. Got it from 420GG and am thrilled. This dispensary has it all, good customer service, reasonable prices and great genetics. BRAVO 👏 👏 👏"
And That's A Wrap!
And that's a wrap on the Ice Cream Cake strain! Now, it's your time to tell us what your thoughts are on this strain – does this strain float your boat, or do you like something potent but less flavorful? But if you are a fan of potent strains, then you have to try this one out.
In case you have already tried out this strain, then feel free to share your experiences and stories in the comments below.
Read More:
Anindita Dey
Anindita Dey is a versatile SEO executive and an accomplished author with a knack for creating compelling content. With a strong background in digital marketing and a deep understanding of SEO best practices, she has helped numerous businesses achieve their online goals. Anindita's writing covers a range of topics, including business, marketing, psychology, and self-improvement. Her engaging writing style, combined with her knowledge of SEO, makes her a sought-after author and content creator in the industry.