Want to know more about the all-new Gush Mints Strain? Then, you are at the right spot. This Gush Mints Strain review is meant to cover all the basic points regarding the strain. So that you can make a more informed decision regarding what to smoke! Sit back, and lemme take you someplace high and calm.
Strain Overview
Gush Mints strain is one of the most balanced strains that you can opt for today, but what does it offer? A cross between the iconic GMO and Animal Mints, this is a strain that is perfect for somebody who wants to experience the best of both worlds. In other words, this is a 50-50 strain, which means that this is a 50% Indica and 50% sativa strain. Therefore, it can make things fairly groovy for users who want to try it for the first time.
Created first by Purple City Genetics, it quickly became one of the OGs of 50/50 cannabis strains. Or strains that are equally divided on the Indica Sativa spectrum. One of the primary reasons behind its popularity is the high THC content of the strain. Sources suggest that the Gush Mints Strain THC level ranges from 27% to 30% THC and 1% CBD and CBG. So, the Gush Mints Weed strain is perfect for anybody who wants to try something strong yet unique.
Genetics
Knowing the genetics of a hybrid strain like Gush Mints is absolutely important for this Gush Mints strain review. It is crucial to understand the lineage and the effects that this strain might have on an individual. As explained earlier, this is a strain that was made by combining two very popular weed strains, GMO and Animal Mints.
GMO or Garlic Cookies is a very popular strain that is famous for its unique blend of flavor and potency. Similar to the Gush Mints, this is a high THC strain that is essentially Indica-dominant in nature.
Animal Mints, on the other hand, had a hazy genetic profile. But it is unanimously agreed that this strain is a crossbreed of Animal Cookies and SinMint Cookies. Similar to the Gush Mintz strain, this is a parent strain that also sits at the 50–50 Indica-Sativa spectrum.
So, as is apparent from the above discussion, the Gush Mints strain shares a lot of similarities with its parent strains like the GMO and the Animal Mints.
Characteristics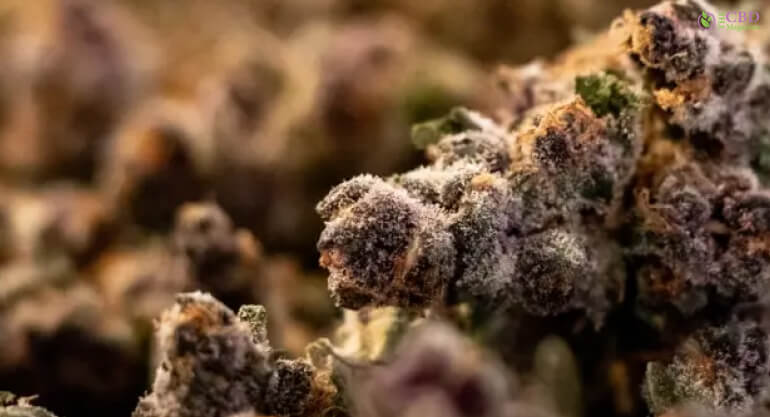 Gush Mints is one of the newest hybrids from the iconic Purple City Genetics that have brought us a number of potent strains that have recreational as well as medicinal capabilities. But what are the characteristics that set this strain apart from other strains? Let us dive right in and see what makes this strain so special.
Appearance
Personally, I believe that my weed needs to look premium. It might not be similar for you, but I love a weed that looks and feels unique. The Gush Mints strain fulfills this requirement amazingly. The green-hued buds of this strain are beautifully covered in dense trichomes. Many users claim that the bud looks remarkably like dew-covered flowers. Apart from the frosty trichomes, if you look closely, you will notice there are purple undertones or accents that add character to the aesthetic appeal of the bud.
Flavor & Aroma
The resinous stricture of the strain is a testament to not just the beauty of the strain but the flavor and aroma of the strain as well. The primary terpenes of this strain are Limonene, Myrcene, and Caryophyllene. Hence, the general flavor of the strain is a sweet, earthy flavor with a hint of diesel. As soon as you inhale, you will notice the sweet, earthy notes that saturate the strain. Subsequently, on the exhale, you would notice the diesel-like aroma that underlies it. Hence, this makes up for a weird, skunky, and sweet flavor that is essentially unique to this strain.
I certainly believe that I came to this strain for how it looks and stayed because of the flavor and aroma. The aroma of the nug is similar to the general flavor profile and the terpenes associated with the strain. So, if you like a minty, citrusy aroma with undertones of diesel and skunk, then Gush Mints is just the perfect nug for you.
Effects & Usages
Apart from an amazing aroma and flavor profile, this strain is something that is also known for its potency. With a THC level that can shoot up to 30%, this is certainly not the run-of-the-mill weed that you buy from a sketchy dealer. This is what the OGs consume.
As soon you take your first swig at the weed, you will feel a sense of relaxation and calmness riddling your senses. You would feel euphoric, high, but alert. These are some of the generalized Gush Mints strain effects, but you can have a completely different experience based on your tolerance. Since this is a 50/50 cannabis, it is perfect for being high and, at the same time, remaining functional. It is perfect for unwinding after a hard day's work.
Since this is a highly potent strain of cannabis, you need to be careful if you are a beginner. If you are a beginner who is getting into the cannabis culture recently, I would suggest that you maintain your distance. But if you want to be a curious cat, you need to keep certain things in mind. Like, do not consume the cannabis in the middle of a work day. Also, try not to have the strain without a proper meal. An empty stomach can induce a bad trip, something that you should sorely avoid. Otherwise, it can bring you a lifelong aversion towards cannabis.
Final Thought
There you go, all the information that you might need regarding the Gush Mints strain. It is a strain that would not only keep you high for a long time but would also make the experience ten times better due to its unique flavor profile. Keep following our page for more pieces of information on strains and all-thing cannabis.
Additional Reading:
samik ghoshal
Samik has been a literature student all along and uses his fluidity to write about multi-niche topics. Aspiring to be a professional writer, he tries to analyze his topic from a critical standpoint but still adds a hint of personal perspective to the end product. Being a person having a general inclination toward global politics and documentary filmmaking, he also wishes to write and document more about numerous conflicts that are brewing in the different corners of the globe.